The time eventually came to leave Kalagala. My family had made plans to travel to Kenya to embark upon a safari that would show more of life in Africa. I'd always wanted to come here, to see an elephant—I've been collecting statues of them since I was a kid. Traveling around East Africa was always a dream, and it would help me to gradually put her death behind me.
Acacia trees dotted the landscape, and no matter where we pointed our cameras, we got shots that screamed Africa. We traveled through small villages and game parks. Both people and animals only appeared sporadically, and the highways were so bad that we might as well have been driving through the bush. The roads that were actually paved had potholes deep enough to hide an adult male baboon. But despite how fast and bouncy our ride was, our driver, James, navigated the roads with an expertise that made us feel safe.
We spent a lot of time outdoors, camping in the wilderness. Some nights, we'd be surrounded by the darkened sky while growling echoed off in the distance. Late one afternoon, an elephant walked through our campsite. We had previously been told that if we saw an elephant, "we must run," but there was nowhere to run except deeper into the wilderness, so we just stood a few feet back and watched. We hid behind a line of laundry that we had hung out to dry. It felt safe initially, but when the breeze blew our cover away, we went and stood with some park staff who didn't seem worried. Then, anticlimactically, the elephant left and we continued our day.
One after another, we encountered small villages. They were as much a part of the landscape as the lions, giraffes, and elephants. The houses were made of cow dung and sticks. They were small, round, and stunk. The children would share a bed in the back, and the much-larger front part was home to the goats and calves so the lions didn't eat them.
When the last morning in Samburu came, we woke early for a game drive. We were hoping to find more elephants, but instead we came across a family of over fifteen female lions. They crossed the road in front of our van and headed toward a herd of grazing zebra in the distance. The herd seemed rather agitated, as though they sensed that something was happening. We had just begun to anticipate what would happen next when, off in the distance, a herd of oryx appeared, and two of them wandered off unknowingly toward the lions.
Suddenly, three lions stuck their heads up from the grass, and then the other groups closed in on the oryx. The kill happened so fast that all you could really see was dust, but when we moved to where the lions were attacking, you could hear the grunts and groans of the oryx as the lions held its mouth closed to suffocate it.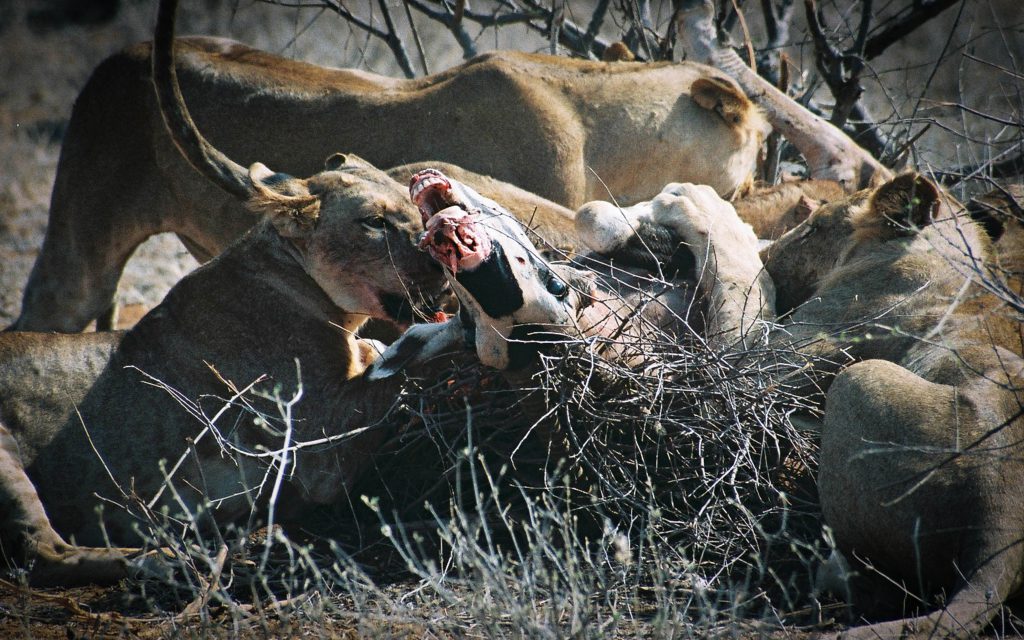 For over an hour, the lions ripped apart the meat while my family looked on. Afterward, the oryx more closely resembled the meat that hangs from an African butchery shop than something that was living just a little while ago. One by one, the bloodied cats finished and went off in search of a place to sleep so that they could rest up and do this all again as the cycle repeated.