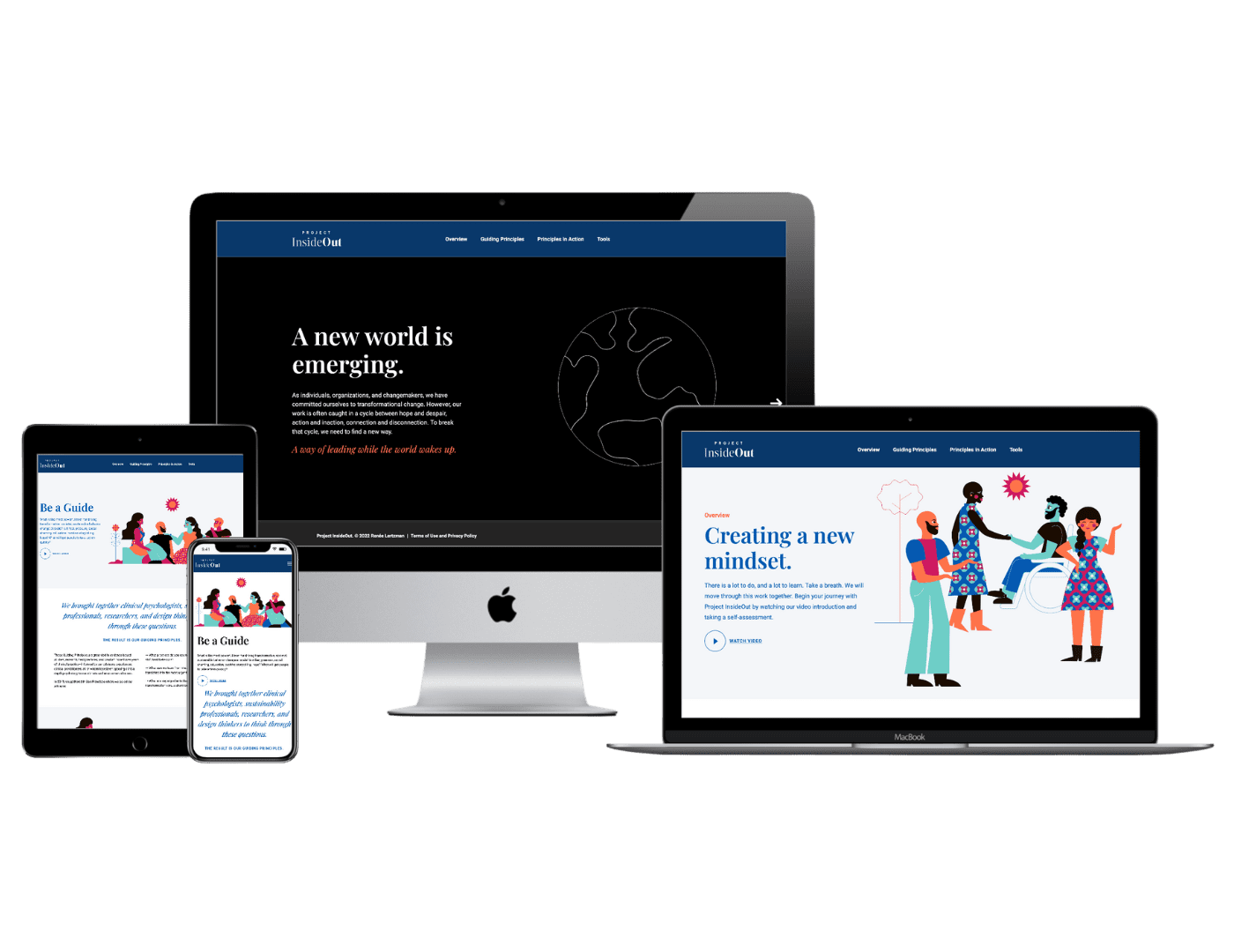 Project InsideOut is a resource hub that brings together activists and clinical psychologists to drive sustainable behaviour change for our planet. It addresses climate inaction and accelerates global change through practical and easily applied psychological tools.
We worked with our clients Renée Lertzman, Elizabeth Thompson and KR Foundation through all the phases of the LKI Process starting with Strategy and Planning where we identified the project's goals – both big picture and SMART goals for the first phase of the website.
We then developed the content map, creative brief and project bible before engaging writer Eiren Caffall to write the script for the website. From there we started extensive story and UX(User Experience) work to create the best user journey through the complex and critical story of Climate Change inaction.
This sparked the idea to create interactive quizzes that drew upon the psychology research Renée had worked on for decades. As the story, UX and interactivity call came together, we started creating the design, illustrations and video content for the site.
Once all this was underway we simultaneously started the development and custom programming for the website site which brought together all the pieces into a story, interactive and educational web experience with practical tools to help organizations bring climate change action into their work.
Below are the elements of the website that you can view here: https://projectinsideout.net
The Creative
The site needed to be inclusive and inviting and chose to work with an illustrator who translated these concepts.
Quiz
Our goal was to help people to understand the different styles and approaches to building out campaigns and self reflect. How do you bring this concept to a user in a practical and fun way.
The answer was to build out 6 key questions that could represent the 4 different styles of a changemaker. The answers are calculated and visually represented in these bubbles the highest value being the biggest bubble. We wanted to visually show that most of us use a combination of these approaches, or are deeply influenced and inspired by one or two.
The Quadrant
The Quadrant of Engagement is a tool designed by Renee Lertzman and the intention is to engage a team in conversations and knowing where you are collectively as a team so that you know what you want to work on.