Design systems are all about creating a cohesive look and feel across all of your digital products. Part of that process is defining the colors you'll be using in your design. This can seem like a daunting task, but with a little bit of planning, it can be easy to create a system that works for your team and your products.
Here are a few tips to help you get started:
1. Choose a few colors that you want to use consistently throughout your design.
When it comes to design, finding the perfect color combination can be your winning secret to having an eye-catching creation. You could say, it's one of the most important steps in creating a polished look.
One of the best ways to come up with a great color palette is to look for inspiration in everyday objects and nature. This can be anything from your company's logo to the colors in a sunset. Just make sure that the colors you choose are easy to identify and are complementary to each other. A helpful tip is to create a mood board with your chosen colors to see how they work together. You can also experiment with different color schemes until you find one that you love. Try experimenting with different color schemes until you find one you like and don't be afraid to step outside of the box – sometimes the best color combinations are those that you would never have thought of on your own.
There are lots of different tools out there to choose from but after trying out many of them, I always come back to Canva. It's easy to use and has a huge range of pallettes. Plus, it's affordable – and if you get stuck, there's a helpful support team on hand to assist you. So if you're looking for a fuss-free way to find colour combinations, Canva is definitely worth checking out.
CANVA: https://www.canva.com/colors/color-palettes/
2. Make sure that the colors you choose are easy to identify and complementary to each other.
There are a few things to keep in mind when choosing colors for your design. First, make sure that the colors you choose are easy to identify and complementary to each other. This will help make your design look cohesive and polished. You don't want a palette that has too many colors or too few, so try to find a happy medium. Second, consider the mood you want to convey with your colors. Bright, bold colors can create an energetic feel, while calm, cool colors can be more relaxing. Third, think about how the colors will work together – you don't want any clashing colors that will be jarring to look at. By keeping these things in mind, you'll be able to choose a color palette that will perfectly represent your brand and products.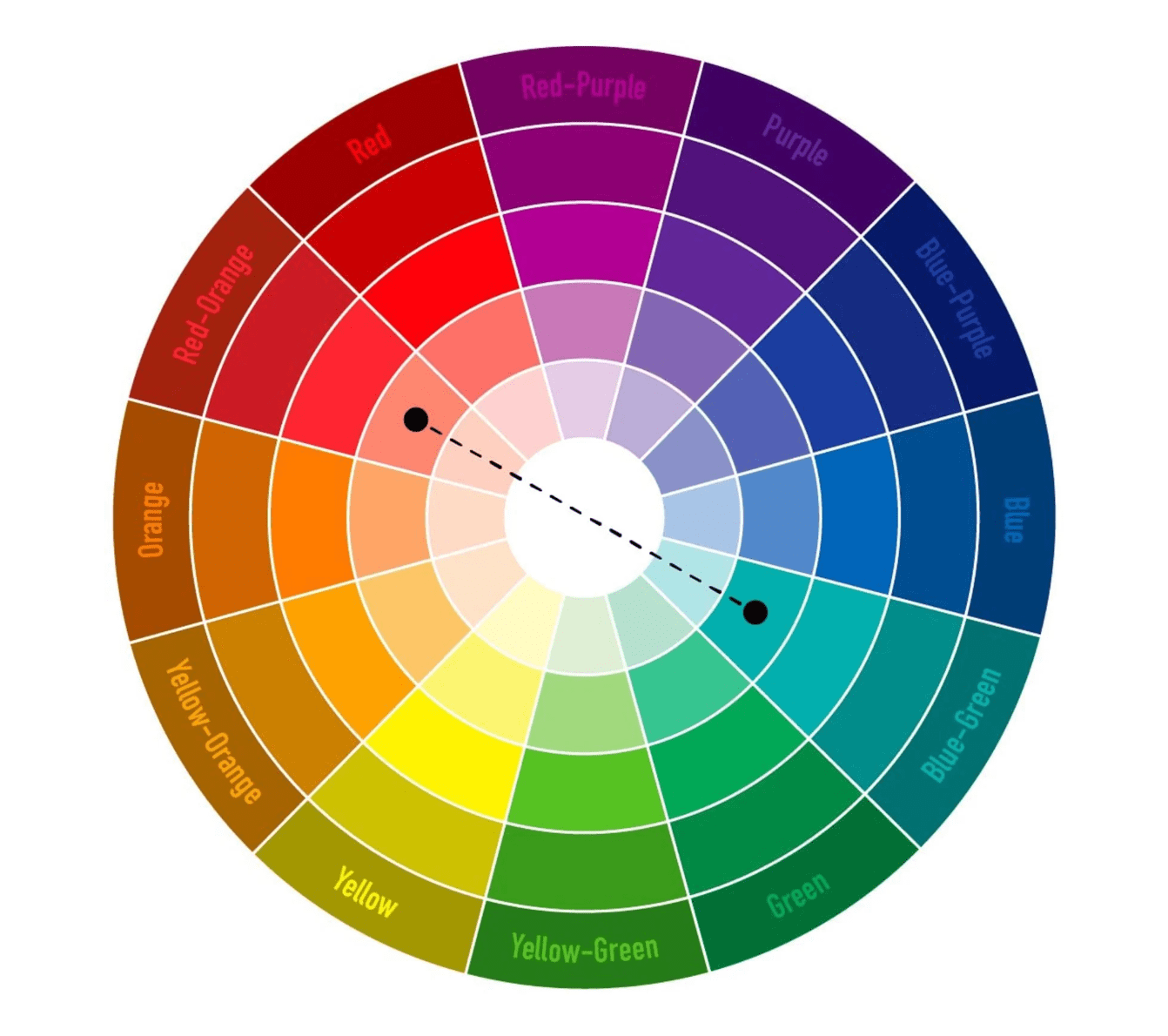 Complementary color combinations are colors that sit opposite each other on the color circle. Complementary colors provide feels of energy and vitality to the viewer.
3. Define how the colors will be used in your design system, including their hues, saturation levels, and brightness.
Choosing colors for your design system is an important first step. But once you've decided on a palette, it's just as crucial to decide how those colors will be used. Will they primarily serve as backgrounds, or will they be used for text and accents? How saturated should they be? How bright?
These may seem like small details, but they can make a big difference in the overall look and feel of your designs. And since colors can also be used to create visual hierarchy or evoke certain emotions, it's important to consider how they'll work with your other design elements before finalizing your choices. But as long as you keep your brand in mind and choose colors that work well together, you'll be on your way to creating a beautiful and cohesive design system.
4. Use a color palette generator if you need help finding the right colors.
When it comes to design, there's no shortage of helpful tools available online. For those who are stuck when it comes to color schemes, a palette generator can be colour magic. By inputting a couple of colors that you like, these tools will generate a complete scheme that you can use in your project. Plus, they're usually very easy to use – even for those who are new to design. So if you're feeling stuck, don't be afraid to give one of these handy tools a try!
5. Create a set of guidelines for using them together.
The importance of consistency in design cannot be understated. In order to keep your designs cohesive and easy to understand, it is essential to use colors consistently throughout your project and across platforms. By documenting your color choices and how you plan to use them, you can ensure that everyone on your team is on the same page and that your designs maintain their integrity from start to finish.
So whatever your goal may be, don't be afraid to have fun with color. It's one of the best ways to express your personality and to create a space that is uniquely yours.
If you need help creating a style guide, you've come to the right place. Whether you're starting from scratch or just want to fine-tune your existing palette, I can help you create a cohesive look that represents your brand in the best way possible. Together, we'll consider factors like your target audience, the message you want to communicate, and the overall tone of your brand. From there, we'll develop a color scheme, choose fonts and other visuals, and put it all together into a style guide that you can use going forward.
So if you're ready to take your brand to the next level, let's get started!